I'M SERIOUSLY *EXHAUSTED*!!
-- And
MOTHER
would "like" to add ANOTHER "VENUE" onto This *SEASON*..?
yeah.. I *DON'T* think so!
-- Not unless, I *just* SELL the
TOQUES
, can GET/share a TABLE for $15. or LESS, and SOMEONE ELSE "Drives"!!
ANYHOO...
OVERALL, the Day went
WELL

!
The WEATHER was GREAT! - Warmer. SUNNY!!
We actually Left ON TIME! - Got GREEN LIGHTS for *most* of the Way!
CUSTOMER-TRAFFIC was Steady, although there have been bigger CROWDS in the Past...
"

SALES

" were a tad Slow at first, however, that perked up with the Sale of a Couple of My FLOPPY-BERETS.. SOLD

FOUR

in Total!
Got LOTS of "INTEREST" on a Few BLANKETS... But, being FIRST-TABLE in THE ROOM has its "Downside" when it comes to the "BIG-TICKET"-ITEMS and *immediate* Purchases!
Then again, *THANK-YOU*,

FABULOUS-RETURNING-CUSTOMER-NANCY

!! - She *Patiently* waited to BUY a *STACK* of

WASHCLOTHS

whilst ANOTHER-COUPLE-OF-WOMEN were literally *rummaging* through My "

DISPLAY

"! - Then

RETURNED

to BUY

*MORE*

a Half-Hour LATER!!
BTW, I need to seriously consider "CHARGING" for the PETTING-ZOO-"FELTING" going on with My

BLANKETS

and TOQUES - which NO ONE *Bought*, but sure ENJOYED "Handling"!
Meanwhile, NEITHER of the "

CUSTOMERS

" who *REQUESTED* That HAT and SCARF "showed-up"! -- NEXT TIME, I Definitely take "

DEPOSITS

"!
Honestly. I *could* have USED the TIME making

WASHCLOTHS

!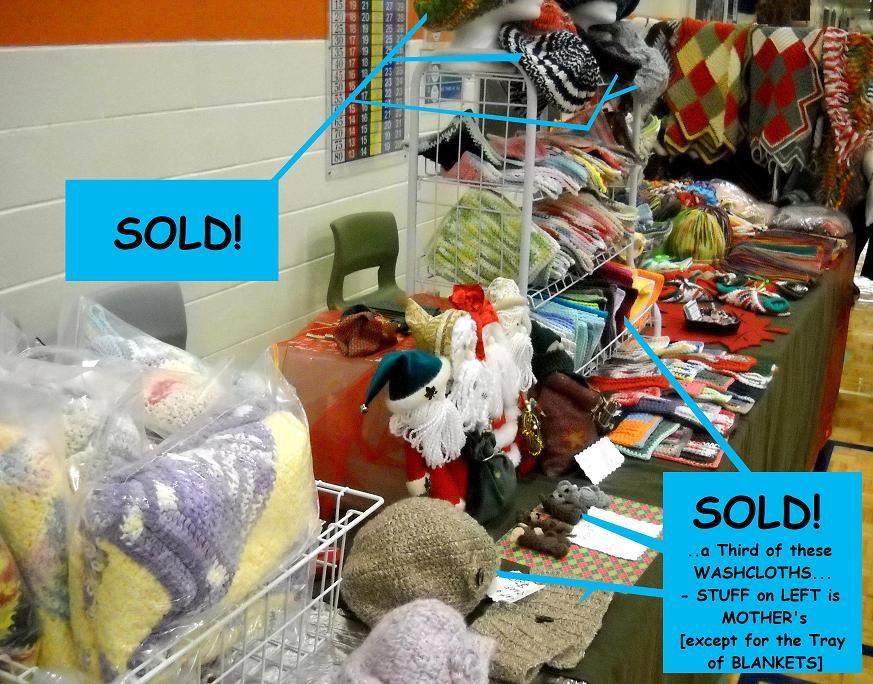 well...
I "nodded-off" for a few Hours Earlier... Gonna most *definitely* SLEEP-*IN* Tomorrow!!
-- And, "maybe" catch-up on some
"Paperwork"
... Some Reading...
VEGGING
...
*********************************************************************