GRANTED, I *STILL* HAVE

UMPTEEN

THINGS

TO "

DO

" THAT ARE PROBABLY WELL *

PAST

* "

DUE

"!
- However, THIS Week, I've DECIDED to just SLOW DOWN... Gonna take My "Time" going through that "TO-DO"-LIST.
We were ALL in such a RUSH this Morning for an Appointment, that I've come to Realize, I need to "STOP" for a Moment and just *BE*... I took My sweet ole Time later in the Afternoon to do the Day's Errands. -- huh. I actually managed to get Done *sooner* than I had Thought that I would. hmm...
MEANTIME, *NOW* that CRAFT-SHOW "Appearances" are OVER - [*unless* some NEW and WORTHWHILE "Opportunity" should arise] - I've gotten back to *just* CREATING...
THESE TWO COLOURS have been just *screaming* AT Me to put Them *TOGETHER* for Weeks!! -- So. I have.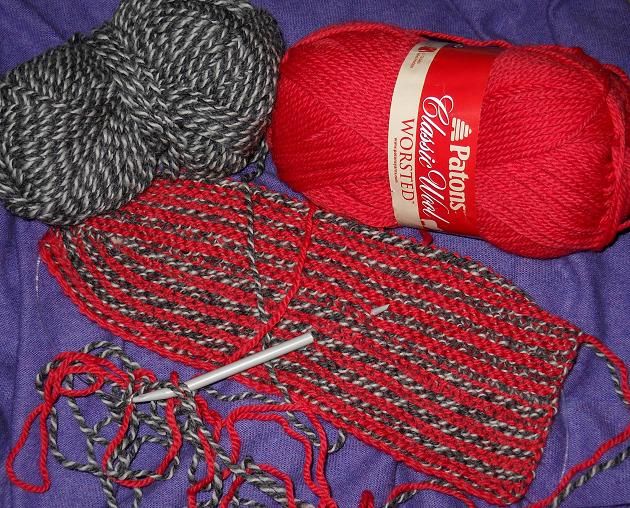 Well... There's a "TOUR"-LIST for Tomorrow. And, those 5-BALL-YARN-PACKS are ON-SALE This Week... HOPE that means a FRESH SUPPLY in over at
MICHAEL'S..?
Some MORE "NEW" Colours would be GOOD!
NOT that I *NEED* Them... OR, have the **SPACE** for Them! Not to mention My Present NON-EXISTING BUDGETARY "Resources"..? -- But, I am *such* a CHROMAddict!! - HOW CAN I RESIST?!
****************************************************************