AS IN, I "

WENT

" TO

BED

AT *

DAWN

*. GOT "

UP

" IN THE

MIDDLE

OF THE

AFTERNOON

!
-- My You, I did manage a Few Hours of "NAPPING" earlier Last EVENING. But, that was more a matter of "Exhaustive Unconsciousness"!
IT WAS A LONNNNGGGG DAY AT THE CRAFT SHOW, *YESTERDAY*...
LEFT at 7am, Driving EASTERLY, TRYING to keep AHEAD of the SOON-to-be-RISING-RETINAL-DAMAGING-SUN. Arrived at the SCHOOL *just* IN Time! And also, to *snag* One of the Little-FLATBED-SKIDS! -- There's a Ways to Walk to THE GYM and My TABLES
I Paced Myself on "SETTING-UP"... And, Tweaked a few Things too. I have Extra RACKS that I didn't bother with, as They take way Longer to Assemble! -- I know that IT doesn't *LOOK* IT, but IT *does* take OVER an Hour to DO!
And then, there's the "UNspoken" Responsibility of being the FIRST Table that CUSTOMERS *SEE* upon Entering THE ROOM, so I HAVE to be READY - *ON* TIME! -- no pressure... Although, I probably have a promising future career as a *certain* STORE-GREETER in about a decade...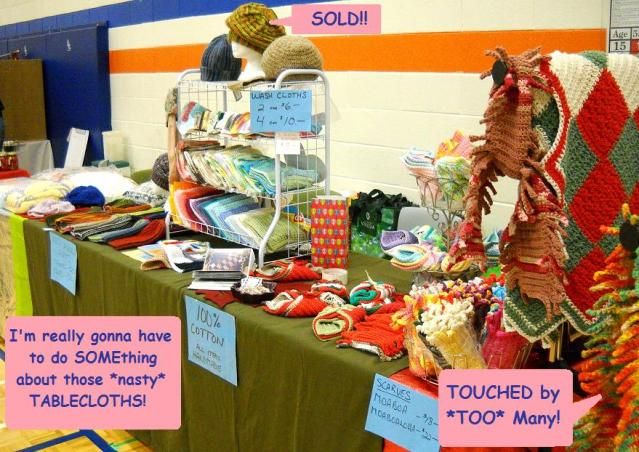 ANYHOO... I did the SALE "SOLO" again.
MOTHER
wasn't up to Snuff enough to DO *that* LONG of a Day, let alone, "BE READY" *ON TIME*! - However,
MADAME-Q
and
Her Daughter
had TWO TABLES just Diagonally ACROSS from Me! -- A "Life"-Saver for those *much* NEEDED 5-Minute "POTTY-BREAKS"!
MEANWHILE, "TRAFFIC" was Steady - though, IT could have mean Heavier... "SALES" - thankfully - started Early, but were also Fewer than Expected, DESPITE the Numerous "Nibbles"... LOTS of
"

HATS

-Trying-On"
, but only Sold TWO. -
"
RUDDY
"
and
"
CEDARWAX
"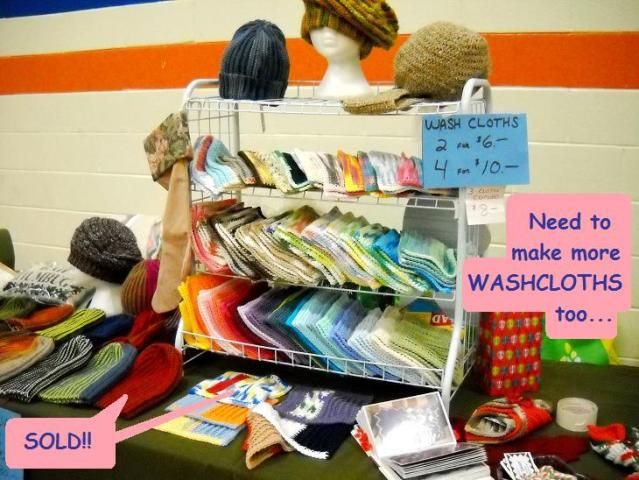 That's the DOWNSIDE of being in the FIRST SPOT,
EVERYONE
wants to "LOOK AROUND FIRST"!
However, I DID SELL a
BLANKET

!!
"
SKYLIGHT
"
will be getting a New HOME for a
NICE-OLDER-LADY's FIRST GRANDCHILD

!
-- YAY!!
Soo... "BOTTOMLINE" -- I made MORE than Last Year, but NOT as MUCH as the Last SALE. *Overall*, IT was a "GOOD YEAR" - although, IT *could* have been BETTER! -- However, considering the LOCAL Economy THIS Year, I'm actually FORTUNATE that I did AS WELL as I DID!
IT still DOESN'T *PAY* for My YARN, OR My **TIME** -- And undoubtlessly, NEVER WILL!!
WHATEVER... IT's still FUN to Give My
"

BABIES

"
New Homes... And, to See the Smiling-Faces of
YOUNGSTERS
when I pass-out the FREE CANDY-CANES... AND, the Confused-Looks-and-Grinding-Brain-Gears of
LITTLE-OLD-"CRAFTER"-LADIES
*attempting* to "FIGURE-OUT" My
BLANKET
and
MOABOA
"Stitching"!!
[

INSERT

*EVIL*-GRINCH-GIRL

Snickers!!

]
Here's a "CLUE" -- **BUY IT**!! -- And, perhaps You'll be *able* to EVENTUALLY Figure IT out..? **IF** You can Find the TAIL-ENDS...
oh. And BTW, Good Luck with THAT! Because even *I* have Troubles and I KNOW *WHERE* They ARE!
[HEY! ZIP-IT,

ELF-BOYS

! --

You're

NOT on Vacation, YET!!]
*********************************************************